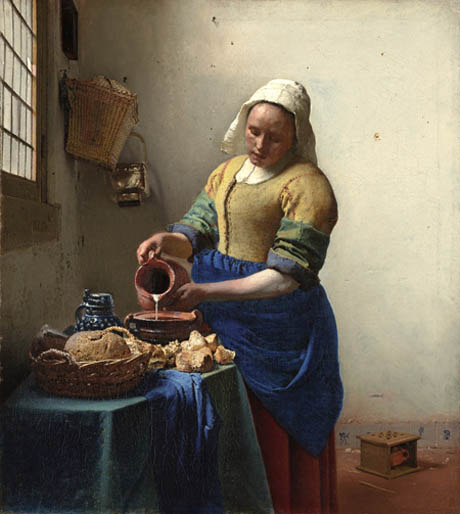 IMAGE: The Milkmaid (detail), Johannes Vermeer, about 1657–58, oil on canvas; Rijksmuseum, Amsterdam, via The Metropolitan Museum of Art, New York.
Johannes Vermeer's The Milkmaid is currently on display at The Metropolitan Museum of Art in New York, on loan from the Amsterdam Rijksmuseum. The contextual exhibit explains the erotic connotations of milkmaids and kitchen items for Vermeer's seventeenth-century contemporaries, pointing out subtle clues that today's audience could easily miss, such as the depiction of Cupid on a tiny Delft tile near the foot warmer. Indeed, apparently the burning embers of the foot warmer itself were a symbol for female arousal.
IMAGE: The Milkmaid (detail), Johannes Vermeer, about 1657–58, oil on canvas; Rijksmuseum, Amsterdam, via The Metropolitan Museum of Art, New York.
Wall text explains that "melken" (the Dutch verb) has two meanings: to milk, and also to attract or lure:
The term's origin is more or less explained in an anonymous Dutch book of 1624, Nova Poemata (subtitled "New Low German Poems and Riddles"), in which a woman in the act of milking a cow ("A sinewy thing she has seized with joy") is compared to grabbing a man's… attention.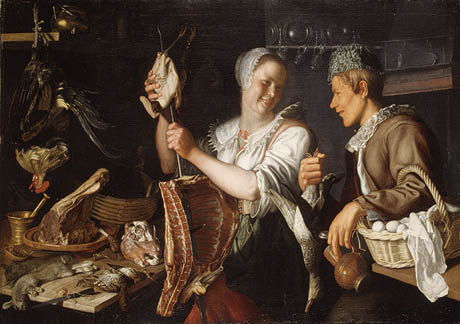 IMAGE: Kitchen Scene, Peter Wtewael, 1620s, oil on canvas, from the Heilbrunn Timeline of Art History, The Metropolitan Museum of Art, New York.
Vermeer's Milkmaid is surrounded by other, more explicit kitchen fantasies. Peter Wtewael's earlier Kitchen Scene, for example, shows an encounter between a cook and a young farmhand. The subtext is conveyed by the chicken, jammed upright onto a sturdy spit, and the man's finger, which dips suggestively into the rim of a jug. For male art patrons of the period, the openings of jugs, milk, onions (said to have aphrodisiac properties), fowl, apples (from the original Edenic fall), eggs, shellfish, and salted herrings all made subtle reference to genitalia, male sexual prowess, and female desire. By the end of the exhibition, it becomes clear that for seventeenth-century Dutch artists, the kitchen was a porn set, as titillating as the poolside setting of Valley subdivisions today, where upper class men fantasised that bawdy, lascivious maids could barely wait to fulfill their every desire.
Of course, gluttonous and sexual appetites are frequently stand-ins for each other – in art, literature, and film, if not life. I've just finished the excellent Secret Ingredients: The New Yorker Book of Food and Drink, and couldn't help but notice that seven out of nine stories in the fiction section entwine sex and food to ecstatic and dangerous effect. From Roald Dahl's oenophile betting his daughter on a 1934 Château Branaire-Ducru, to Alice McDermott's elderly widow with an unladylike fondness for ice-cream, kitchens, restaurants, and dining rooms from across the world and throughout the twentieth century are refigured as sites of sexual encounter.
The Cold War kitchen of Don DeLillo's Sputnik (an excerpt from Underworld) is particularly enjoyable, with Jayne Mansfield's breasts, the Ford Fairlane parked on the breezeway, and decorative Jell-O moulds all woven together into plastic, techno-militarised erotica:
She would prepare half a dozen serving bowls of her Jell-O antipasto salad. Six packages of Jell-O lemon gelatine. Six teaspoons salt. Six cups boiling water. Six tablespoons vinegar. Twelve cups ice cubes. Three cups finely cut salami. Two cups finely cut Swiss cheese. One and a half cups chopped celery. One and a half cups chopped onion. Twelve tablespoons sliced ripe olive.

She remembered coming home one day about six months ago and finding Eric with his head in a bowl of her antipasto salad. […] Was he engaged in an act of unnatural oral stimulation?
IMAGE: Vintage Jell-O advertisement, found via.