Bompas & Parr, the culinary magicians behind aerosolised gin-and-tonics, cake-obstacled miniature golf, and architectural punchbowls, have published a new book exploring the olfactory, aesthetic, historical, and spectacular implications of fruit salad: Tutti Frutti with Bompas & Parr and Friends.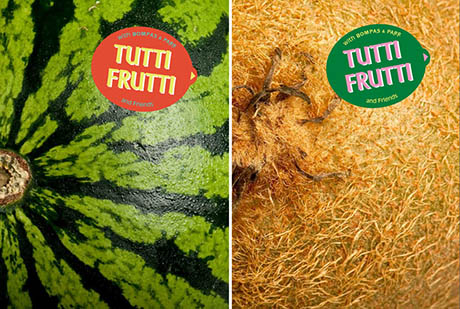 IMAGE: Two of the book's four fruity covers, complete with peel-able sticker.
I am honoured to be included amongst these friends, and contributed an expanded look at spaces of banana control for the "Fruit Essays and Insights" section of the book, which also includes an essay on plant geometry, a guide to the pineapple-shaped architectural ornaments of London, and a selection of gorgeous botanical illustrations from the Royal Botanic Gardens, Kew.
IMAGE: Map by Emma Rios to accompany Sam Bompas' guide to the pineapple as architectural ornament. "You can find them everywhere," in London, Bompas writes, from St. Paul's Cathedral to Lambeth Bridge, as a legacy of seventeenth-century England's pineapple mania.
IMAGE: The Swiss Cheese Plant, Monstera deliciosa, from the Herbarium Library, Art & Archive at the Royal Botanic Gardens, Kew. Beth Adams of Bompas & Parr notes that the fruit's flavour "resembles something between a pineapple, banana, and mango, retaining all of the best qualities of each," but that, until fully ripe (a process that can take as long as a year), the plant's delicious tutti-frutti interior is inaccessible, guarded by a matrix of hexagonal scales that are toxic to the touch.
Architect Sam Jacob of FAT adds a fantastic rumination on the "bright blue anomaly" that is the visual confectionary shorthand for raspberry flavour. Apparently, artificial raspberry colour was once a dark red, thanks to the coal-tar derived AKA E123 or FD&C Red No. 2. Unfortunately, as Jacob writes, "in 1976, E123 was classified as 'Very Dangerous' by the Food Standards Agency and withdrawn from the market. This caused a problem:
At the moment FD&C Red No. 2 was banned, there were simply no reds free that weren't already used to signify other red fruit. Think of the congestion of radio frequencies, where it becomes impossible to broadcast on a particular wavelength because of the interference it would cause to its neighbours. In the spectrum of artificial fruit colours, red was already congested with strawberry, cherry, and so on, but the non-natural palette was, given the prevailing desire for colours to mimic nature, free.
Raspberry, in Jacob's analysis, becomes the pioneer of an avant-garde fruit spectrum, one that breaks free of imitation and "revels in its artificiality," suggesting "that the things we eat might become abstract notions: the taste of wavelengths rather than biology."
IMAGE: Raspberry-flavoured gummi rings.
The core of the book is devoted to fruity recipes, from bioluminescent durian sauce ("the powerful flavour will disguise how repellent bioluminescent enzymes can taste!"), lime slime (a "slimy and memorable sauce," which you are advised to "use sparingly"), and a delicious, if labour-intensive, tropical trifle. The fruit salad is transmuted into jelly, bombe, sundae, and cocktail form by well-known chefs, a landscape gardening collective, and British-Nigerian artist Yinka Shonibare.
Tutti Frutti closes with a series of interactive fruit art projects. including an infinite tasting exercise designed by olfactory artist Sissel Tolaas and DIY instructions for building a gherkin chandelier, which will, Sam Bompas promises, fizz and spatter, wafting the sharp tang of pickle juice through the air as it glows with "a ghostly green light."
IMAGE: The world's first gherkin chandelier, built by Bompas & Parr and photographed by Ann Charlott Ommedal. For those of you intent on trying this at home, Bompas reports that a small gherkin draws 300W, while a large one draws 500W.
"There is a real danger of death," warns Bompas, noting the likelihood of fusing your mains, cremating the pickles, and accidentally electrocuting yourself while building an ornamental pickle light feature, "but the results will be worth it."
Finally, as if to ensure no sense remains unsatisfied, there's even a fruit music mixtape compiled by Mike Gabel of Hot Breath Karaoke.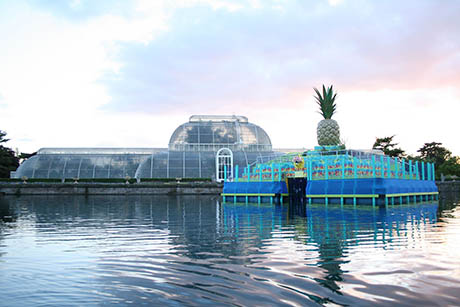 IMAGE: Bompas & Parr's Tutti-Frutti boating lake at Kew Gardens. Photograph by Ann Charlott Ommedal.
The book is available in a limited edition of 2,500 from Bompas & Parr's website: get yours here and feast your eyes, your mind, and, if you're brave enough, your tastebuds on an exotic selection of fruit facts and fictions. If you're in London this summer, you can also visit Bompas & Parr's Tutti Frutti boating lake, pineapple island, and banana grotto at Kew (until September 1).