IMAGE: Venue's identity, designed by Folkert Gorter, spotted in the wild.
Site visits and interviews have formed the basis of many of my favourite posts on Edible Geography over the years, whether it be documenting a trip to the mushroom tunnel of Mittagong in Australia or discussing the particular flavour and effervescence of Antarctic ice cores with climatologist Paul Mayewski. I'm thrilled, then, to announce the launch of a new project, Venue, in which Geoff Manaugh of BLDGBLOG and I will travel around North America combining the two formats.
Over the next sixteen months, we'll be traveling with Venue on a series of different expeditions to various corners (and centres) of the continent. We'll be visiting a huge range of places and talking to an equally diverse group of people along the way, in order to assemble what we've been calling a curated X-ray or new core sample of the greater North American landscape — "a cumulative, participatory, and media-rich" narrative archive of the built, natural, fictional, internal, and virtual environments that we build and inhabit.
IMAGE: Film still from Our Daily Bread.
From fish farms to the potash mines where the raw ingredients for industrial fertiliser are extracted, and from water rights lawyers to sensory scientists, many of the sites and subjects of Venue's research will, I hope, be of interest to Edible Geography readers and will thus be published here as well as on the Venue site. Others, such as ski resort designers and neon museums, are a little outside Edible Geography's usual territory, but may well appeal to several of you nonetheless: if so, you can keep up with our adventures online and by Twitter and email, and explore our multimedia archive using an interactive map, as well as by search or keyword.
IMAGE: Potash mine near Saskatchewan, Canada; photograph by Martin Mraz.
In addition to Venue's regular programming diet of site surveys, conversations, and reports, we also plan to sprinkle in occasional public workshops, presentations, and discussions, in an attempt to borrow some of the excitement of our other nomadic events series (Foodprint Project and Postopolis!) — the way a traveling and temporary community of ideas exchange can trigger unexpected connections and reveal larger, shared themes. I hope to see some of you at these — as before, the mailing list and our continually updated online schedule will be the best way to stay up to speed.
IMAGE: The Venue tripds as superheroes in an illustration by Chris Woebken.
IMAGE: The Venue box under construction, photo by Semigood.
Physically, Venue is a collection of measuring tools and recording devices mounted on surveying tripods and a custom-designed pop-up interview desk. In addition to standard video, audio, and still photography, we'll also be deploying a range of more whimsical, poetic, and obscure instruments to reveal invisible forces and impose alternate perceptual frameworks on the landscape. I'm particularly excited about this part of the project, as part of a longstanding interest in exploring how the technologies we use to explore and describe the landscape both shape and are shaped by the way we understand it.
IMAGE: Geoff Manaugh and Chris Woebken on a surveying tool reconnaissance mission.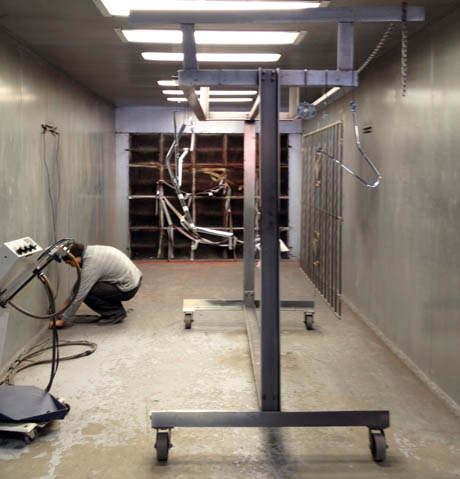 IMAGE: The powder-coating room up in the Bronx in which Venue's tripods and equipment were given a new look.
Interaction designer Chris Woebken, of fish-texting and beetle-wrestling fame, has created many of these devices for us, and we'll also be experimenting with a Public Laboratory near-infrared balloon photography rig, Munsell soil charts, Matt Richardson's textual Polaroid, and even a home-made cyanometer (to measure the blueness of the sky). Over the coming weeks, you'll be able to read more about each of these, see them in action, and browse their output on the Venue site.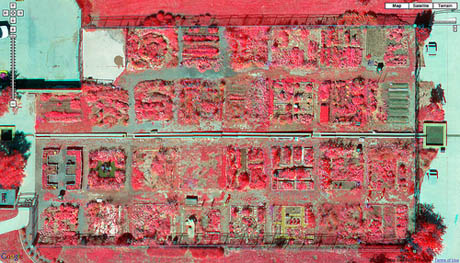 IMAGE: Multispectral balloon map of North Boulder Community Garden by Stewart Long and the Public Laboratory.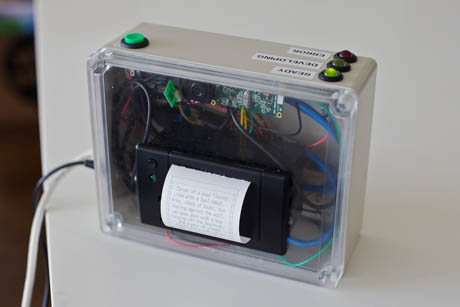 IMAGE: Descriptive Camera, by Matt Richardson.
We'll be kicking things off on Friday, June 8, at the Nevada Museum of Art in Reno, Nevada, with our first public event — the Museum and its fantastic Center for Art + Environment are Venue's literal and intellectual parents, without whose support this project would have never happened, and whose galleries and archive will be the ultimate recipient of everything that Venue collects over the next sixteen months. From 6 to 8 p.m. that evening, Venue will pop-up for the first time, at the members' premiere of the Museum's new Edward Burtynsky: Oil exhibition, and visitors will have a chance to see its various devices and instruments in action, learn more about the project, and suggest sites and people for us to visit.
IMAGE: Female Surveyors in 1918, General Land Office, via the Public Lands Foundation
A post like this wouldn't be complete without a huge thanks to our wonderful partners, the Nevada Museum of Art's Center for Art + Environment and Studio-X NYC, and our generous supporters, the Western States Arts Federation (WESTAF), Nevada Arts Council, and the National Endowment for the Arts, as well as all the incredibly talented designers who have worked overtime to help us give shape to and realise this project: Chris Woebken, Folkert Gorter/Superfamous and Jon-Kyle Mohr of Cargo Collective, Atley Kasky and Keith Scharwath of Outpost, Brendan Callahan and Thom Jones of Semigood, Greg Nanney, Matt Richardson, INABA, and Joe Alterio.
All of this is to say: stay tuned! Meanwhile, I'd be grateful for your suggestions of sites and people for Venue to visit over the next sixteen months: leave them in the comments or using our online form.