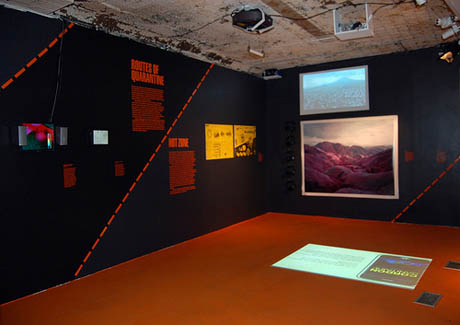 IMAGE: Landscapes of Quarantine, a group exhibition at Storefront for Art and Architecture, NYC, from March 10 – April 17, 2010. In this shot, left to right: Thermal Scanner and Body Temperature Alert System, Daniel Perlin, Field Notes from Quarantine, Katie Holten, MAP 002 Quarantine, David Garcia Studio, Quick, Richard Mosse, and Cordon Sanitaire, Kevin Slavin.
For me, one of the most exciting aspects of the Landscapes of Quarantine studio that Geoff Manaugh and I ran last autumn was its multidisciplinarity. On any given Tuesday evening, we'd see a game designer giving feedback to a set designer, a comic book illustrator comparing storylines with a fiction writer, and architects brainstorming with artists. Meanwhile, the resulting works – on display now at Storefront for Art and Architecture in New York City – were realised in materials as diverse as bentonite clay, Aerochrome film, medical-grade Tyvek, and tear-off pads.
IMAGE: From the Landscapes of Quarantine group exhibition at Storefront for Art and Architecture, photo by Emiliano Granado. In this shot, a short story published on tear-off pads: Did We Build The Frontier To Keep It Closed? by Scott Geiger.
And I'm excited to announce that soon – but for two nights only! – the exhibition will also include a medium very close to this blog's heart: food.
On Saturday, April 10, and Sunday, April 11, the Brooklyn-based a razor, a shiny knife team will explore the culinary implications of quarantine, preparing and serving a quarantine-themed dinner inside the exhibition itself. Tickets are not cheap but then this will not be just dinner: for a razor, a shiny knife founder and leader, Michael J. Cirino, deliciousness is just the baseline from which he pushes his collaborators to explore the outside limits of the science of cooking, as well as the theatrical, social, and experiential possibilities of a meal.
IMAGE: Michael J. Cirino of a razor, a shiny knife, testing recipes at home.
So what does quarantine taste like?
To find out, of course, you will need to attend the dinner itself! But to get a sneak preview, I went along to Michael Cirino's house a couple of weeks ago to eavesdrop on one of his regular menu brainstorming sessions with collaborators Andrew Rosenberg and Danny Zlobinsky.
On arrival, I was handed half a bottle of Sauvignon Blanc (no glass), a roll of masking tape, and a felt-tip pen, and put to work labeling plastic containers filled with remnants of the afternoon's experiments while the rest of the team filtered duck fat, washed dishes, and discussed what went wrong with the onion soup sandwich cookies (definitely not their split pea cream filling, which I sampled, and which tasted much better than it sounds).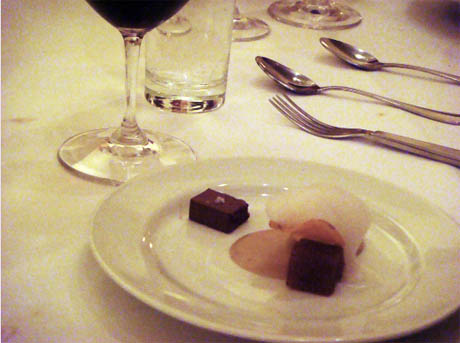 IMAGE: A plated presentation at a previous a razor, a shiny knife dinner.
Cirino was a charming host, inviting me to sample honey-roasted peanuts dipped in avocado puree (delicious, but perhaps not more so in combination than separately) and a canister full of still-warm blue cheese shaving cream (incredible).
"Want bubbles in that?" he said, hooking my wine bottle up to a scuba-diving tank full of carbon dioxide. "Hungry?" he asked, passing me three fresh tacos, one filled with pork, another with duck, and the third ("just a throw-in") with wild mushrooms. "Did you see the best word in here?" he asked as I poked around in a box labeled "Science," filled with white powders (sodium hexametaphosphate, a sequestering agent).
IMAGE: Photos from earlier a razor, a shiny knife edible experiments.
With clean-up done, Cirino, Rosenberg, and Zlobinsky went through their quarantine menu notes (which included ideas from fellow a razor, a shiny knife regulars Michael Lee and Demian Repucci). The first course, they decided, would serve as the exposure – guests should encounter the infection for which they would be quarantined.
"It needs to look dangerous," announced Michael, scrolling through stock photos of petri dishes for inspiration. "But also beautiful. What flavours do we want to serve with trout roe? Can we get it to look like this?" he asked, pointing to a photo labeled "Andrew's Favourite," which resembled delicate swine flu virus cells dusted with gold.

After adding "experiment with injecting flavour into agar gel" to their to-do list for next weekend, Michael, seemingly at random, picked up a mason jar, filled it with smoke from a black plastic gun, and sat it upside down on a plate. The second course was supposed to be something to do with spherification or prison trays, according to the notes, but inspired by Michael's pyrotechnics, Andrew suggested serving cold-smoked fish:
How long does the smoke hold?
We need something to burn.
Grab the oregano. No, the Italian seasoning. I still have ten things of Italian seasoning from that meatball thing.
Throw some of the peanuts in there.
Has anyone got a timer on their phone?
OK, that works. That's pretty intense.
What's the fish? Salmon?
No, I hate salmon. It would work, but I'm not doing it.
There's plenty of fish that gets cold smoked. We can figure that out. What goes in there with it, that won't get messed up from the smoke?
Nothing.
Nothing?
Yeah. We just have garnishes sitting on the edge of the plate. Maybe mâche with a light vinaigrette.
Totally quarantined! OK, done.
And so the narrative arc developed: if the dinner guests are passengers on a journey through quarantine, then the first course plays with the idea of exposure to disease, and the second course mimics the first step taken on arrival at the lazaretto – disinfection. In our initial conversations, I had told Michael that during outbreaks of the Black Death in fifteenth-century Europe, port officials would "disinfect" suspect cargo and mail by dousing it in vinegar and/or subjecting it to cedar or sandalwood smoke: from that seed of an idea, combined with culinary technology, a new edible experience emerged.
IMAGE: Instruments used for disinfecting mail by smoking.
From this beginning, it was clear that the subsequent courses had to be entirely quarantined. Cirino, Rosenberg, and Zlobinsky quickly thrashed out a sous-vide pasta course to follow, with the vacuum-sealed plastic bags serving as both practical solution in a kitchen-less space and an ingenious way to serve the dish's components separately, forcing guests to break the hygienic barrier and cut open the clear pouches themselves.
IMAGE: Sous-vide food preparation, via.
After that, a razor, a shiny knife plan to serve dry-aged beef, which is currently being kept in a carefully monitored, climate-controlled twenty-one-day quarantine at the Master Purveyors meat locker in the Bronx. The transformative, revelatory power of time that lies at the heart of quarantine will also act on the meat, concentrating its beefy essence. With that element of the dish in place, the team briefly considered various accompaniments – bacon dust? blue cheese shaving cream? – in order to achieve maximum deliciousness.
IMAGE: Dry-aged beef at Master Purveyors, Inc.
By now, it was late, the cheese course was set already ("we just need to practice"), and it was time to consider dessert. The notes simply said: "Dessert?"
"Dessert is always a bitch," said Andrew, glumly.
"Can we send people home with some kind of mark?" I asked. "Like the symptoms of a disease that is revealed during quarantine, or like the residual stigma of the quarantined?"
Michael's eyes lit up, again:
I like that idea! OK, you know what we haven't done in any of the dishes? We haven't done an encapsulation in any of the dishes. So for the last thing, why don't we just encapsulate a sauce, and in the sauce is a surprise. So they crack it open in their mouth and bingo! We can figure out how to make something like that work, right?
And with that, the brainstorming session was over. Of course, weeks of testing have followed, so who knows quite how these initial ideas have evolved since…?
Each dinner will include live butchery, wine pairing, and a mime in a leotard, promises Cirino, who also welcomes questions about the evening's menu and schedule. Ticketed guests are invited and encouraged to come at 4:00 p.m. on April 10th and 11th for cooking demonstrations, with dinner to be served at 7:00 p.m. More details and tickets are available online here. I can't wait – and I hope to see some of you there too!