New York is known for being a dense, fast-paced kind of place: its pedestrians move more quickly than anywhere else in the country, its apartments are the same size as most suburban garages, and it is, after all, the city that never sleeps.
So, if you were looking to make miso that was truly local — that somehow embodied its Manhattan terroir — it makes sense that you would try to make it in record time. Traditional miso undergoes a lengthy fermentation — between six months to three years is normal — but in New York's East Village, in the culinary R&D lab attached to chef David Chang's innovative Momofuku restaurant group, a new miso is born as often as every four or five days.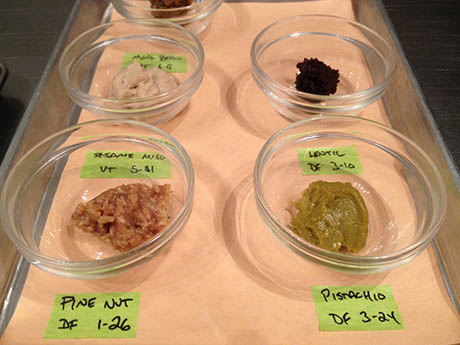 IMAGE: Momofuku misos, photo via wildfermentation.com.
Earlier this week, Dan Felder, head of R&D at the lab, spent a couple of hours introducing the Experimental Cuisine Collective to Momofuku's microbial adventures. Following a research trip to Japan, and extensive help from Rachel Dutton, Harvard University microbiologist to the restaurant stars, Felder explained that the Momofuku team had gained sufficient understanding to transform a recipe into a technique — the miso mechanism.
In other words, for Felder and Momofuku founder David Chang, the microbial metabolism at the heart of miso's double fermentation process is now just another versatile piece of kitchen equipment, like a food processor or whisk.
Felder actually described the team's initial miso brainstorming session as "a Pacojet moment," referring to a device that was originally introduced as an ice-cream maker but has since been appropriated by chefs to foam, whip, puree, and mince almost every ingredient under the sun.
IMAGE: Pistachio and pine-nut miso in NYU's centrifuge. Photo by Dan Felder.
Giddy with excitement at their "new" tool, and its powerful potential to create genuinely original flavours and textures, the Momofuku team have "miso-ed" pine nuts, pistachios, chickpeas, corn, cranberry beans, and more, with quite delicious results. (We sampled several, and the pine nut, in particular, had a luscious caramel undertone to its salty, savory taste.)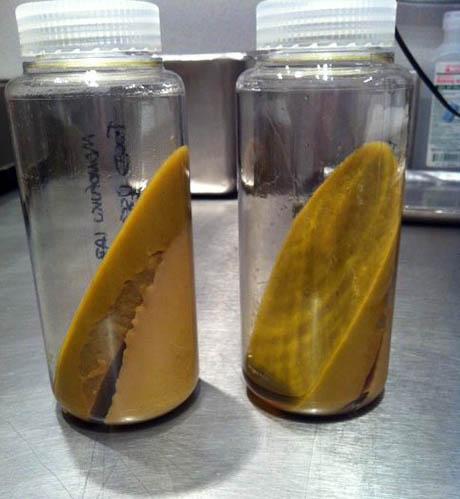 IMAGE: Pistachio miso, with a layer of fermented pistachio oil and pistachio tamari separated out. Photo by Dan Felder.
Beyond the thrill of experimentation, however, Felder and Momofuku are fascinated by the possibility of developing a new local terroir — foods and flavours that express something their place of origin in twenty-first century New York City, but aren't necessarily traditional to the region.
Thus, in addition to making miso under cramped conditions and really fast, in an apparently unintentional reflection of the pace of life in the city, they're also trying to recruit local microbes to replace the traditional Aspergillus Oryzae that is native to Japan and China. That bacteria occurs naturally on rice hulls in Asia, and so Momofuku is planning to send some of next season's harvest from New York City's only, tiny rice paddy, on Randall's Island, off to Harvard for microbial analysis.
IMAGE: The Randall's Island rice paddy, via its blog.
In the meantime, Felder left out cooked grains around his East Village lab to "catch" local microbes, from which Rachel Dutton managed to isolate a strain of Neurospora mould, which is widely used in genetics research because it is hardy and hyper-dominant (a New York microbe indeed).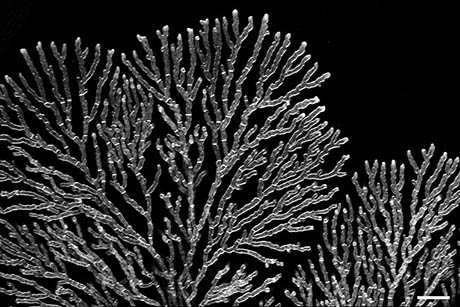 IMAGE: Neurospora. Credit: Dr. Matt Springer and the FGSC.
Despite a series of failures thus far, Felder believes that it is possible to make miso from Neurospora, which has a fruitier aroma than Aspergillus Oryzae (it apparently "smells like a cross between cider vinegar and bubblegum") and has only one traditional culinary application, producing Javan oncom, a tempeh-like food made from the by-products of peanut or cassava processing.
IMAGE: Oncom cakes, via.
In the meantime, however, some more successful experiments are gradually making their way into Momofuku's restaurant kitchens — diners at Seibo in Sydney are sometimes treated to macadamia miso, while Felder's team found that, dehydrated, blitzed, toasted, and mixed with flakes of Maldon sea salt, their Aspergillus (koji) base makes an excellent finishing rub for dry-aged beef at Ko.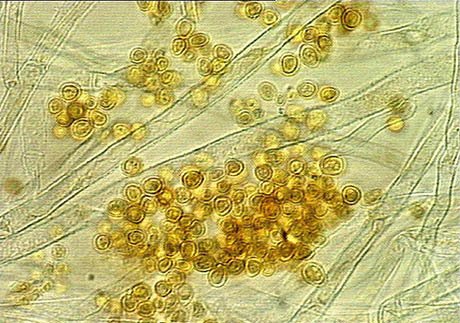 IMAGE: Aspergillus Oryzae at 40x magnification, by Jose Herrera.
Ultimately, as NYU chemist and Experimental Cuisine Collective co-founder Kent Kirschenbaum speculated, it's possible that "misofication" could expand the range of the edible, transforming overlooked or otherwise discarded ingredients and byproducts into delicacies, complete with added health benefits.
For now, however, leaving both twenty-first century terroir and future superfoods aside, the Momofuku R&D team simply functions as a wonderfully Wonka-esque flavour factory, risking their lives and expanding our palates with experiments designed to see what happens when you ferment olives and whether katsuobushi (dried bonito flakes used to make dashi, or stock) can be made with pork instead. (Stay tuned, and yes, but they can't work out how to replicate it, respectively.)