I'm rather excited to announce that the Food section of the New City Reader is hot off the presses!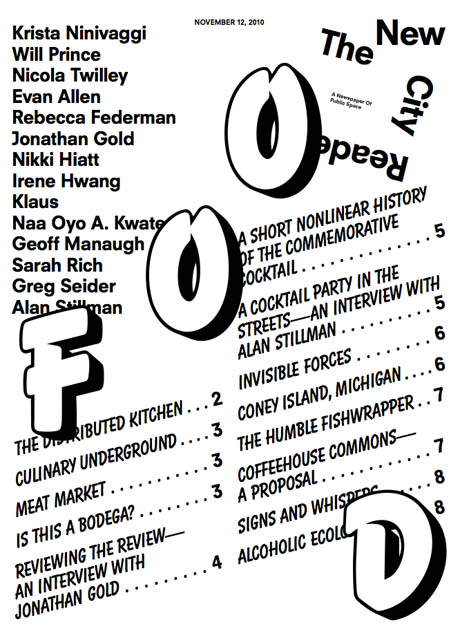 IMAGE: Front page of the Food issue of the New City Reader.
The New City Reader is a pop-up "newspaper of public space," published as a sixteen-page broadsheet each Saturday this autumn. It was launched by Joseph Grima and Kazys Varnelis as part of the New Museum's current exhibition, The Last Newspaper, which looks at the ways artists "disassemble and re-contextualize elements of the newspaper in an effort to take charge of, and remake, the transmission of information that defines our daily lives."
IMAGE: News, 1969/2008, by Hans Haacke, in which a real-time feed of news agency reports is printed in the gallery. It is on display as part of The Last Newspaper at the New Museum, alongside a restaging of William Pope.L's work, Eating the Wall Street Journal (2000), in which a "team of collaborators occasionally wander throughout the museum eating the financial daily."
Each week's issue takes its cue from a specific section in a traditional Saturday paper, and is put together by a fresh team of guest-editors with the help of a small in-house design and editorial staff.
The first issue introduced the project with a giant infographic explaining how the New York Times continued to be produced during the chaos of the city's 1977 blackout. Subsequent issues have included the editorial pages, and the Culture, Sports, and Leisure sections, with topics ranging from Kuwait's diwaniyyah network of distributed debate to the grass- and air-rights negotiations that take place between Ultimate Frisbee and pick-up football players in Brooklyn's Prospect Park.
In the weeks to come, you can look forward to Business, Music, Legal, and Weather sections, among others, all guest-edited by some of Edible Geography's favourite writers and designers.
IMAGE: A page from the Food issue of the New City Reader, in which drawings by Will Prince and Krista Ninivaggi show the health codes and economic logic that shape our dining environments.
Flatteringly, I was invited to co-edit the Food section with architects Will Prince and Krista Ninivaggi of PARK. Although that meant that none of us slept for about a week, the collaboration was a lot of fun, and we were lucky to persuade an extremely talented group of people to write and draw for the issue, including Evan Allen, Leigha Dennis, Rebecca Federman, Nikki Hiatt, Irene Hwang, Klaus the cartoonist, Geoff Manaugh, Sarah Rich, and Greg Seider.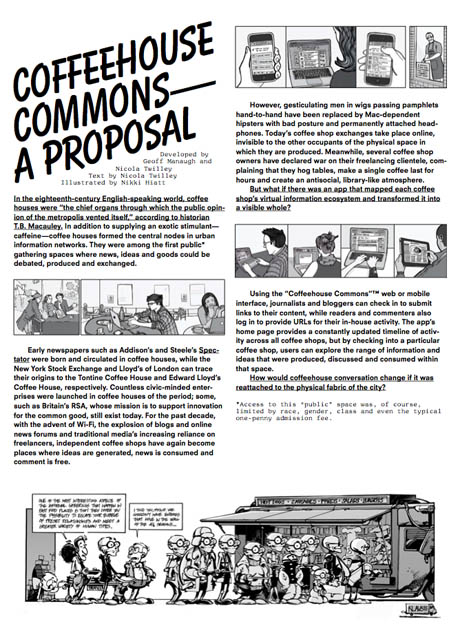 IMAGE: A page from the Food issue of the New City Reader, showing illustrations by Nikki Hiatt (to be featured in a future post) and a cartoon by Klaus.
IMAGE: A page from the Food issue of the New City Reader, featuring an introduction to the allusive geography of Coney Island, Michigan, by Irene Hwang and a cartoon by Klaus.
Our editorial brief was to filter the typical content of the food and drink section through the lens of public space, the newspaper, and alternative urban networks of communication. The result includes an atlas of imaginary fried chicken cartographies, an introduction to underground bushmeat networks and illegal grilled cheese, and interviews with a range of foodscape imagineers, from legendary critic Jonathan Gold to public health innovator Naa Oyo Kwate.
For now, you can pick up a free print copy at the New Museum in New York, check out the issue as a low-res PDF here, hold your breath until it is posted online here, and/or follow along this week as I post excerpts and outtakes.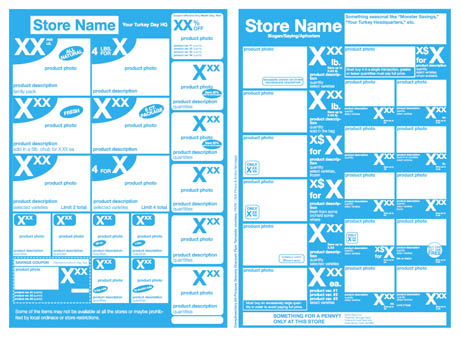 IMAGE: A special insert in the New City Reader: a selection of all-purpose grocery discount flyer templates provided by the editors for taxonomical purposes only.
Huge thanks are due to the New City Reader team, particularly Brigette Borders, John Cantwell, Neil Donnelly, Daniel Payne, Alan Rapp, and Chris Rypkema, our stellar contributors, and our generous informants and interviewees (including Candy Chang, Jonathan Gold, Marion Emmanuelle, Matthew Kemshaw, Nance Klehm, Naa Oyo A. Kwate, Ronnie, Jon Rubin and Dawn Weleski of Conflict Kitchen, Jeff Sisson, Alan Stillman, and Christina Zeigler).