IMAGE: Take-out beverage lids, collected in the 90s and early 00s, photographed by sarcoptiform
The disposable coffee cup lid falls squarely in the category of random, everyday objects that you might assume are overlooked, but are actually quite the opposite. In fact, they have been collected, dissected, and put on display by a handful of notable design critics and curators.
As early as 1995, design historian and author Phil Patton's personal collection of over 30 different lid types underwent categorisation and analysis in a feature article for I.D. Magazine. Under the headline "Top This," Patton noted that Americans get through about a billion and a half plastic lids each year, and marveled at "how many varieties there were, how various and intricate the device is and how intensely designed they are."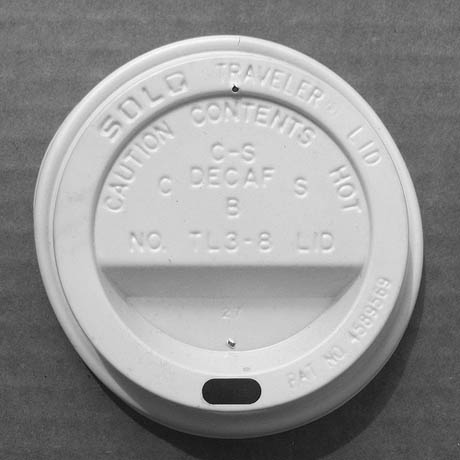 IMAGE: The Solo Traveler lid, photographed by sarcoptiform.
In 2007, Patton's collection was put on display at the Cincinnati Museum of Art. Press materials for the exhibition, which was titled "Caution: Contents Hot!", drew attention to highlights of the genre:
For example, the Solo Traveler lid was designed to accommodate the nose and lip of a drinker. In accomplishing this design goal, the necessary height of the lid made it useful for foam-topped gourmet coffees. Visitors will also see the McDonald's lid, which is the only lid that features Braille markings for "decaf" and "other."
IMAGE: The Solo Traveler lid patent drawings.
The Solo Traveler lid had been singled out a few years earlier by MoMA's Paola Antonelli for inclusion in her 2004 "Humble Masterpieces" exhibition, where it was displayed alongside such other examples of quotidian ingenuity as the paperclip and the Q-tip. Designed by Jack Clements in 1986, the Solo or "sanitary lid," as it is officially called, can also claim art director and critic Steve Heller as a devoted fan:
Here come the inevitable Freudian references: the Solo Traveler lid is a substitute for a mother's breast – what we might call nature's original travel lid. […] It provides comfort and joy as well as nourishment. Certainly plastic is not the most warm and loving material, but somehow the fundamental shape transcends the emotive limitations of the materials. Somehow that lozenge-shaped opening is a means to a totally satisfying end.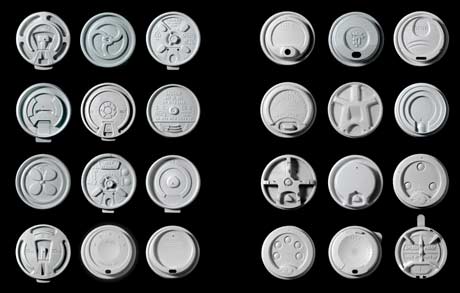 IMAGE: The Harpman/Specht lid collection, as featured in Cabinet.
However, it is architects Louise Harpman and Scott Specht who proudly lay claim to the largest collection of "independently-patented drink-through plastic cup lids" in the United States. Forty of their 150 different examples of the form were put on display in a large safe at Proteus Gowanus, a Brooklyn gallery, in 2005, and featured in an accompanying issue of Cabinet magazine.
IMAGE: The Harpman/Specht collection on display at Proteus Gowanus in 2005.
Despite the Solo Traveler's celebrity status, to my mind, these lids are most interesting when considered as a group, unified by function and yet differentiated in form. Patton, Harpman, and others have traced their design evolution over time, from the "primitive days" of simple vented plastic circles, through the invention of the sip tab, to the multi-functional straw/sip-through domes of today.
The very earliest patent for a drink-through lid — Roy Irvin Stubblefield's "Cap for Drinking Glasses, filed on April 27, 1934 — was designed for cold beverages. Designer Zeke Shore, in a plaintive post that asks "Why Do Coffee Cup Lids Still Suck?", traces the first tearable vented plastic lid for coffee back to 1967 patent filed by Alan Frank of Philadelphia.
IMAGE: R. I. Stubblefield's "Cap for Drinking Glasses" patent drawings.
IMAGE: Alan Frank's patent drawings, via Type/Code.
In those early days, would-be mobile caffeinators had to peel back the un-perforated plastic to create a wedge-shaped opening through which to drink, and a triangular piece of rubbish to discard, akin to old-fashioned ring-pulls. It wasn't until 1975 that Walter Elfert and James Scruggs came up with the fold-back tab that could attach itself to the lid to stay out of the drinker's way. And, according to Harpman, "the true efflorescence in drink-through lid design and production can be traced to the 1980s, when we, as a culture, decided that it was important, even necessary, to be able to walk, or drive, or commute while drinking hot liquids."
IMAGE: Elfert and Scruggs' patent drawings, via Type/Code.
Twenty-six new patents were issued in the 80s alone, for refinements in "mouth comfort, splash reduction, friction fit, mating engagement, and one-handed activation." Several of the innovations are not necessarily improvements: Harpman castigates the Push and Drink Lid, which requires lateral bracing to allow users to puncture the plastic by pressing downwards, as "the most over-designed of the lid types." Meanwhile, the "pinch" mechanism lids simply add an extra squeezing motion to the peel-back process, without any noticeable benefits.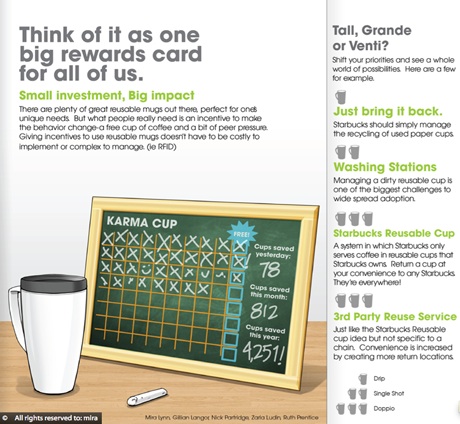 IMAGE: The Karma Cup, designed by Mira Lynn, Gillian Langor, Nick Partridge, Zarla Ludin, and Ruth Prentice.
Although their design continues to evolve (I am particularly taken by this colour-changing version, which indicates temperature as well as warning of insecurely attached lids), it's possible that the glory days of the plastic single-use lid are over. Last year, Starbucks partnered with Core 77 and others to run the Betacup Challenge, a crowd-sourced design contest to reduce to-go cup waste.
The winner — Karma Cup — did not offer any improvements in mouth feel or splash reduction.Instead, it incentivised the use of reusable cups by charting their use, and giving away every tenth drink ordered in one. If the idea takes off, maybe one day the disposable plastic lid will be collected for its rarity value, rather than its everyday charms.
Thanks to Alex Trevi of Pruned for introducing me to sarcoptiform's photos.