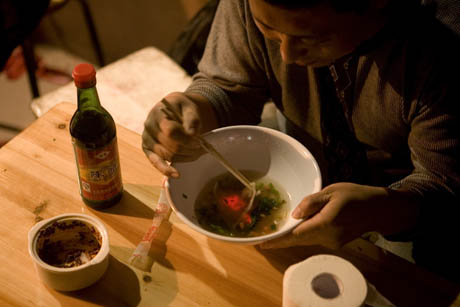 IMAGE: Street Life, a project by The Living (David Benjamin + Soo-in Yang) in association with the Living Architecture Lab at Columbia University Graduate School of Architecture, Planning and Preservation.
In his lecture at Sci-Arc last week, architect David Benjamin of The Living presented these wonderful soup bowls, which he and Soo-in Yang designed for the 2009 Shenzhen & Hong Kong Bi-city Biennale of Urbanism/Architecture.
IMAGE: Street Life by The Living.
I'm a big fan of any food that talks to you, whether in the cryptic wisdom of fortune cookies or the logistics-laden transmissions of RFID-chip equipped milk cartons, but these bowls are especially clever. Benjamin explained that the basic idea was inspired by two defining features of South China's cities: street food culture and the manufacture of electronics.
We designed and fabricated a custom soup bowl with scrolling LED messages hidden inside. We arranged for the curators of the Biennale to write short observations about the city and then program them into the bowls. And we arranged for several dai pai dongs around the city to serve food out of our custom bowls.
IMAGE: Dai pai dong in Shenzhen, via The Living.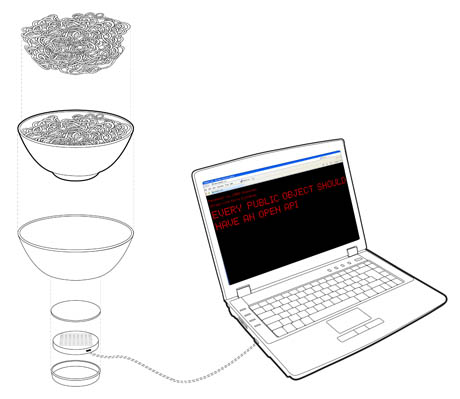 IMAGE: Street Life by The Living.
The dai pai dong, or open-air street restaurant, is all but synonymous with Hong Kong cuisine despite government attempts to dislodge them, while across the border in the electronics manufacturing hub of Shenzhen, thousands of assembly-line workers dine daily at dai pai dongs set up outside the factory gates.
In the biennale guidebook, curator Kayoko Ota describes The Living's custom bowls in action:
Local citizens come to eat their favorite noodles in soup at a dai pai dong. Halfway into the bowl—surprise!—they discover an LED message glowing at the bottom, provoking thoughts about the architecture and urbanism of Shenzhen.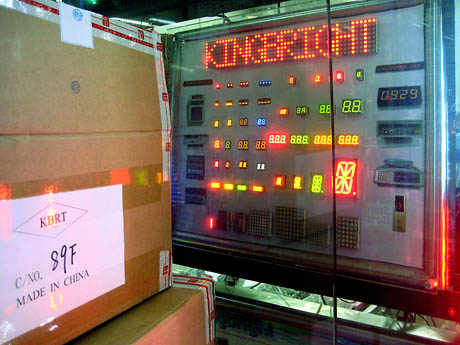 IMAGE: Electronics manufactured in Shenzhen, via The Living.
One of the ongoing goals of the three-year-old Shenzhen & Hong Kong Biennale is to bring the two cities closer together — last year's organising committee rallied under the banner "Two Cities, One Theme, One Exhibition."
Meanwhile, chief curator Ou Ning chose "City Mobilisation" as the theme for 2009, urging architects and urban planners to move away from their focus on "the building of physical space," and instead pay attention to "the social structures, community interests and political realities behind these cities and buildings."
IMAGE: Street Life by The Living.
IMAGE: Sample messages from Street Life by The Living.
The Living's soup bowls were a practical and playful means to achieve both goals, by inserting daily micro-messages from artists, architects, and curators in each city into the pre-existing social and cultural framework of open-air street restaurants. Hiding a glowing LED at the bottom of an ordinary soup bowl was an ingenious way to reference the local electronics industry — but, more importantly, according to Benjamin, it "made people stop, look, laugh, and hopefully think."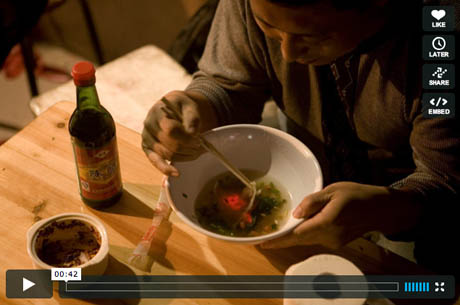 IMAGE: Click here to watch this short video of The Living's Street Life soup bowls in action.
This idea simply seems too good to limit to a two-month biennale.
Admittedly, in other contexts, the bowls would be stripped of their elegance as a reinvention of pre-existing local products — but still, the possibilities are endless! Anxious mothers could equip their university-bound offspring with an LED plate, sending text messages about the importance of a solid breakfast and vegetable consumption at appropriate times of day. Birthday meals could be served with a scrolling subtext of good wishes from long-distance friends and family. Farm-to-table restaurants could surprise guests with a greeting from the person who grew their dinner. Who knows, perhaps Israeli and Palestinian restaurants could even swap tableware to start a spontaneous, mobile-phone enabled dialogue between diners?