In just under a month, I am delighted to announce, I will be eagerly exploring the edible geography of Mexico City. The occasion is Postopolis! DF, the third in a series of events organised by Storefront for Art and Architecture. Postopolis! was launched in New York City in 2007, and it happened all over again in L.A. in 2009. I was lucky enough to attend both events as an audience member, and to be invited to participate this time is an honour indeed.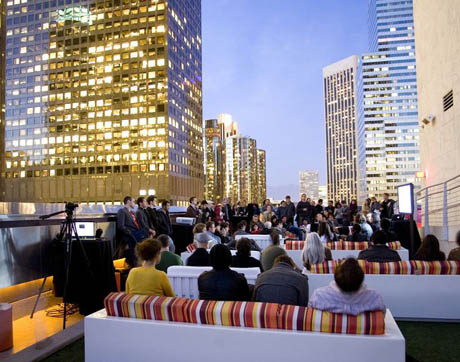 IMAGE: Postopolis! LA
The way Postopolis! works is that a handful of bloggers are invited to co-curate five days of back-to-back presentations and discussions that approach the field of urban and landscape design from as many disciplines and perspectives as possible. The list of participating blogs this year forms an impressive group: Urban Omnibus (Cassim Shepard), Intersections (Daniel Hernandez), DPR Barcelona (Ethel Baraona Pohl), Toxico Cultura (Gabriella Gomez-Mont), Tomo (Guillermo Ruiz de Teresa), Mudd Up! (Jace Clayton a.k.a DJ /rupture), We Make Money Not Art (Regine Debatty), Strangeharvest (Sam Jacob), and Wayne & Wax (Wayne Marshall).
Together, we're putting together a list of speakers that ranges from government officials to DJs, academics to urban farmers, and waste disposal experts to documentary filmmakers—via a healthy sprinkling of artists, architects, and designers.
IMAGE: The courtyard at El Eco.
The five-day marathon will take place from 4 p.m. onwards between Tuesday, June 8, and Saturday, June 12, at the Museo Experimental El Eco in the Reforma Avenue neighbourhood of Mexico City. It is completely free and open to the public, the talks will be conducted in either Spanish or English, with simultaneous translations available, and each day will end with an after-party hosted by local music blogs. Rumour has it, the entire event will be streamed live online—I'll confirm that nearer the time.
IMAGE: Clockwise: street food, the Bordo de Xochiaca dump, chinampas, and Mexican refrigerated trucks waiting to cross into the U.S.
Mexico, and Mexico City itself, offer a huge amount to discuss in terms of edible geography, from the chinampa system and the wheat and maize research of CIMMYT, to a fabulous diversity of street food and the U.S. FDA's overseas expansion. Although the full speaker list and schedule is yet to be confirmed, Postopolis! DF is shaping up to be a pretty interesting event, and I definitely hope to see some of you there.
Meanwhile, since this is my first visit to Mexico City in more than a decade, what should I make sure to see and eat? Any tips or suggestions would be gratefully received.
Postopolis! DF is organised by Storefront for Art and Architecture, and presented in partnership with El Eco, Tomo, and Domus. Additional sponsors include Mexicana, the British Embassy, Urbi VidaResidencial, UNAM, Difusión Cultural UNAM, Cityexpress, and XXLager. Thanks also to Joseph Grima, Daniel Perlin, César Cotta, José Esparza, and Blog Non Stop.