April 1st has seen its share of food hoaxes, including the BBC's legendary 1957 spaghetti harvest documentary, which featured a family from Ticino in Switzerland gathering a bumper spaghetti crop, following a mild winter and the "virtual disappearance of the spaghetti weevil."
But April 1 also marks the birthday of Jean Anthelme Brillat-Savarin, grandfather of the gastronomic essay and author of The Physiology of Taste (1825), and for the past ten years, the International Edible Book Festival has been held on that date in his honour. The rules for participation are simple:
1. The event must be held on April 1st (or close to that date)

2. All edible books must be "bookish" through the integration of text, literary inspiration or, quite simply, the form.

3. Organizations or individual participants must register with the festival's organization and see to it that the event is immortalized on the international festival website.
IMAGE: "The Story of 
The Jolly Rancher Company," by Brenda J. Gallagher, via the endlessly browsable International Edible Book Festival archives.
This year, there are events scheduled as far afield as Adelaide, Venice, Dublin, and Normal, Illinois, with the United States in general showing the strongest representation.
The loose definition of "bookish" results in a variety of approaches, such as food-related puns on the book's title or food-based constructions of key scenes or characters from a favourite novel. For example, among the edible books now on display at the University of Oregon Library are cataloguer and metadata technician Paul Harvey's "Cannery Row" – a row of canned vegetables inspired by Steinbeck's novella of the same name. Meanwhile, last year at the University of Puget Sound's Edible Books Festival Libary Director Jane Carlin "won the award for Most Literary last year with her creation "Rabbit(s) Run," inspired by John Updike's Rabbit, Run. She lined up marshmallow rabbit "peeps" in single file upon rice cakes."
IMAGE: "20,000 Leagues Under the Sea," by Stephanie Hawkins, a 2009 entry into the Western New York Book Arts Collaborative Edible Books Contest, via the Buffalo News.
My favourite entries, though, are the ones that try to recreate the book form in food. Today's Buffalo News reports on engineer Chuck Matteliano, who, together with his wife Cara, created a filo pastry book that won last year's first prize at the Western New York Book Arts Collaborative's Edible Book contest:
"I'm an engineer by training, and my wife has her PhD in speech communication," said Matteliano. "All her artsy fartsy speech communication friends were talking about their ideas. I said, 'This is not an English problem, or an art problem. This is an engineering problem."

He ran some trials with notoriously delicate phyllo, finally learning how to attach uncooked phyllo sheets to paper before passing them through an inkjet printer loaded with nontoxic ink. The Mattelianos printed pages from Homer's Odyssey on phyllo, mounted them with more phyllo baked into a flaky, many-layered dessert, and there it was: "Booklava: An Edible Odyssey."

"The printed phyllo turned yellow and started to crack, so it looked even more like an old book," said Matteliano, whose creation won first place. "I don't know that we'll be able to top it this year."
IMAGE: "Booklava," by Chuck and Cara Matteliano, the winner at the 2009 Western New York Book Arts Collaborative Edible Books Contest, via the Buffalo News.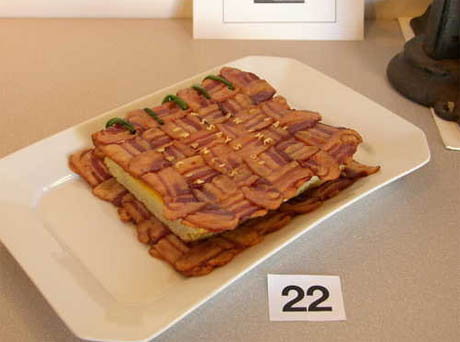 IMAGE: "Essay on the Essays of Francis Bacon," by Shasti O'Leary Soudant and Lauren Newkirk Maynard, second-place winner at the 2009 Western New York Book Arts Collaborative Edible Books Contest, via the Buffalo News.
Close behind, in second place, was "Essay on the Essays of Francis Bacon," by Shasti O'Leary Soudant and Lauren Newkirk Maynard:
They wove two pounds of bacon into mats, then baked them, weighed down by another tray so they'd finish flat.

"Shasti came up with the brilliant idea of taking her Dewalt drill and drilling holes through the bacon covers, and use some kind of food to stitch it together," Maynard said. "I suggested scallions — you blanch them and they get soft, but stay bright green."

With scallion hinges, whipped egg omelet for the "pages," and alphabet-soup lettering, it was an edible work of art.
Chuck and Cara told the Buffalo News that they are planning to compete again this year, riffing on John Steinbeck's Tortilla Flat by creating either a printed tortilla page or perhaps even a pop-up book using hard-shell tacos. Lauren and Shasti are taking the year off, but generously shared their hard-earned wisdom with would-be edible book creators: "Choose ingredients that aren't terribly perishable, that can sit overnight and not fall, or melt, or get goopy."
IMAGE: "Eating Words – Winston Churchill," by Richard Kegler, 2009 (wafer board, chocolate, Twizzlers), via the WNY Book Arts Center Edible Books gallery.
IMAGE: "Taste with your tendrils (Braille)," by Courney Brent, 2009 (black licorice, candy dots), via the WNY Book Arts Center Edible Books gallery.
On a similar note, I've been enjoying Murketing's Rob Walker's recent series of posts on "the idea of the book," in which he curates various re-uses and alternate frameworks for books – as wall-paper, guns, jewellery, intellectual property contracts, or even title-poetry, spines selected and lined up as word art. Seeing so many deformations and reformations all together inevitably (for me, at least) leads to some interesting reflections on the book as a designed object, as well the varying methods for its consumption.
IMAGE: "Shark Journal" from the Sorted Books project by Nina Katchadourian, 2001 (C-prints), via Murketing.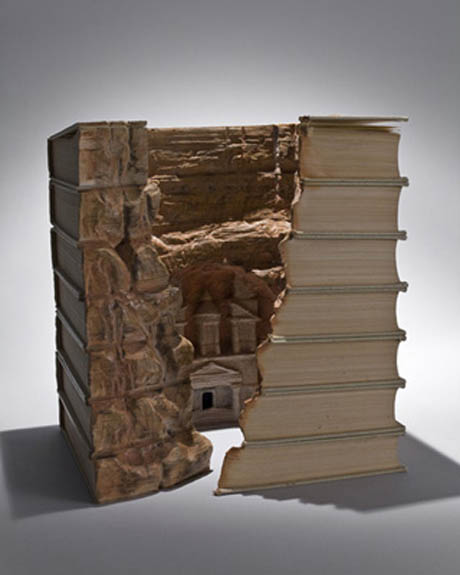 IMAGE: "Petra," by Guy  Laramée, 2007 (eroded Encyclopedia Britannica, pigments), via Murketing.
Walker also collects examples of "imaginary brands" – fictional products immortalised in films, television shows, and, of course, books. It would be pretty incredible to see the two subjects collide at the Edible Book Festival: Wonka Bars used to make edible copies of Charlie and The Chocolate Factory, for example, or a seven-layer Harry Potter book-cake that incorporates Bertie Bott's every flavour jelly beans. There's still time to enter: let me know if you do!
Publishing Food is a very occasional series that collects intriguing examples from the overlap between food and publishing, broadly interpreted. For previous posts in the series, click here.