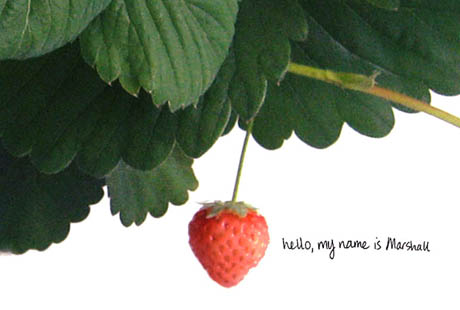 IMAGE: The Marshall strawberry, via Leah Gauthier's pop-up shop.
It is "the finest eating strawberry in America." It is "exceedingly handsome, splendidly flavored, pleasantly sprightly, aromatic and juicy." In fact, it was once "the standard of excellence for the entire northern strawberry industry."
In 1939, it was served to King George VI and Queen Elizabeth at a special royal luncheon in Vancouver, and it was one of only two kinds of strawberry allowed into the house by the young James Beard's mother. But, by 2004, it was named one of the ten most endangered foods in the USA by the RAFT (Renewing America's Food Traditions) coalition, reduced by its susceptibility to imported viruses and its short shelf life to a single clone held in the USDA's Germplasm Repository in Corvallis, Oregon.
IMAGE: The Marshall strawberry, via Leah Gauthier's pop-up shop.
Now, in 2012, the Marshall strawberry is not only extremely rare and exceedingly delicious, it is also a work of art, released in a limited edition of 600 by artist Leah Gauthier, who has grown the plants from a single runner that the USDA kindly overnighted to her in 2007.
For just $65, while supplies last, collectors can acquire their very own "baby Marshall strawberry plant (size varies, but most are around 3-4″ tall)," complete with "hand-sewn fabric container with a metal tag designating its number in the series and care instructions."
Through the addition of water and some sunshine, the owner of each genetically identical but artistically unique Marshall will be able to experience a flavour on the verge of extinction, while contributing to its ongoing survival, and to a revival in local food cultivation.
IMAGE: 1/600, Marshall strawberry, Leah Gauthier, 2012.
"The creative act is not performed by the artist alone," declared Marcel Duchamp, the artist famous for showing a urinal, a snow shovel, and 50 cc of Parisian air as "readymade" artworks. Gauthier cannot preserve the Marshall strawberry — her own readymade fruit — simply by growing it on her own, but perhaps, by purchasing it as an artist's edition, her audience can.