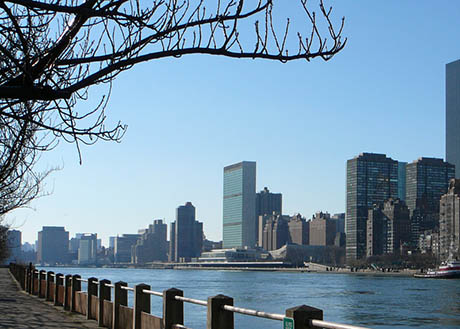 IMAGE: The East River and United Nations building. Photo by Flickr user mksfly.
In a 2004 article, the New York Times describes the somewhat alarming dilapidation of the UN headquarters building, which is currently undergoing an extensive (and expensive) refurbishment.
In addition to lead paint, asbestos, and the absence of sprinkler systems on all but the lower floors, the building's foreman, Tony Raymond, shows the Times the building's in-house machine shop, used to jury-rig replacement parts for the mechanical systems whose 1950s manufacturers have since gone out of business.
Structural and infrastructural flaws aside, however, the building does have some intriguing edible benefits. The Times reports that "East River water is pumped into the building as a coolant, and Mr. Raymond said workers had collected eels, blue claw crabs and bluefish from the basement filters to take home to cook."
In other words, the building's HVAC system inadvertently doubles as a fishing technology — implying, in the process, the rather intriguing possibility of an intentional architecture that actually hunts wild food, rather than simply hosting domesticated plants.