IMAGE: Cilantro harvested in Watts, photo part of a set taken by D C Anstett.
A couple of quick Foodprint Project announcements: first of all, if you're in Los Angeles this Thursday, October 28, I'll be participating in an evening of conversation entitled "Why is L.A. a Hungry City?" at the American Institute of Architects' Los Angeles chapter. I'll be joined by cooking consultant and activist Shelley Marks and architect Michael Pinto, who will be talking about their work integrating urban agriculture into the city.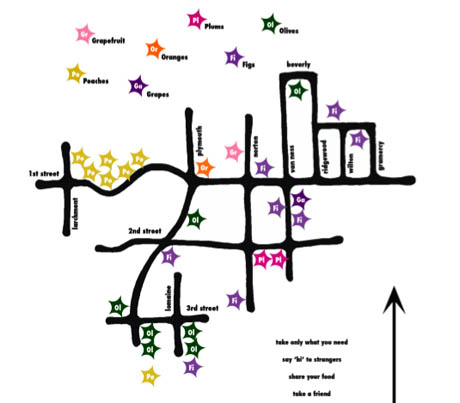 IMAGE: Fallen Fruit maps Los Angeles in terms of its fruit resources.
I'm really looking forward to hearing more about Marks' work with her group, the Urban Farming Advocates, to redesign Los Angeles as a productive landscape using zoning revisions and legislative repeal — especially the awesomely named Food and Flowers Freedom Act of 2010.
Pinto, meanwhile, founded Project Food LA to understand the infrastructural causes of food deserts. He will, I hope, discuss his speculative proposals for Mudtown Farms community garden in Watts to demonstrate how architects can use food as the basis from which to design a built environment that promotes healthy lifestyles, provides jobs, and creates community.
IMAGE: From the Good Food For All Agenda, a report of the Los Angeles Food Policy Task Force.
I will be adding a short presentation to the mix, introducing the Foodprint Project as an investigation into the ways two complex systems — a city and its food — overlap and shape each other.
Most often that interaction happens in unrecognised and even unplanned ways, but, on closer examination, these intersections frequently form the most effective places for designers, businesses, urban planners, and activists to intervene. Foodprint Project conversations, both in terms of the themes and the multi-disciplinary participants, are all about uncovering the design implications and potential within that overlap.
In addition to reporting back on the Foodprint Project's findings thus far, I'll be asking for input as Sarah Rich and I start to shape a conversation that is important for LA, and I'd really love to hear your thoughts. Admission is free (RSVP to Will Wright if you think you can make it), and the event runs from 7:00 – 9:00 p.m. at the AIA Los Angeles, which is in the Wiltern building (the address is 3780 Wilshire Blvd., Suite 800, Los Angeles, CA 90010; parking is validated, and there's a map here).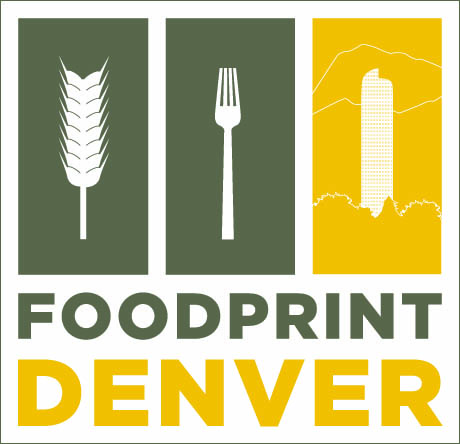 IMAGE: Foodprint Denver's logo was designed by the super-talented and awesome Nikki Hiatt.
Secondly, I'm thrilled to announce Foodprint Denver: Art Meat City, a conversation about the ways that meat shapes and is shaped by Denver's urban environment and agricultural surroundings, from muscle architecture to prairie ecology, via slaughterhouse design and steakhouse culture.
IMAGE: Angus beef, according to the Beef Checkoff program.
Sarah and I were delighted to be invited to organise this meat-centric version of Foodprint in Denver as part of ART MEETS BEAST, a three-day nose-to-tail whole bison roast accompanied by music, lectures, and performances at the Denver Museum of Contemporary Art. It will take place from 4:00 – 6:00 p.m. on Thursday, November 11, and there are many more details on our (awesome) speakers and updated conversation format to come — but if you're in or near Denver, be sure to save the date!