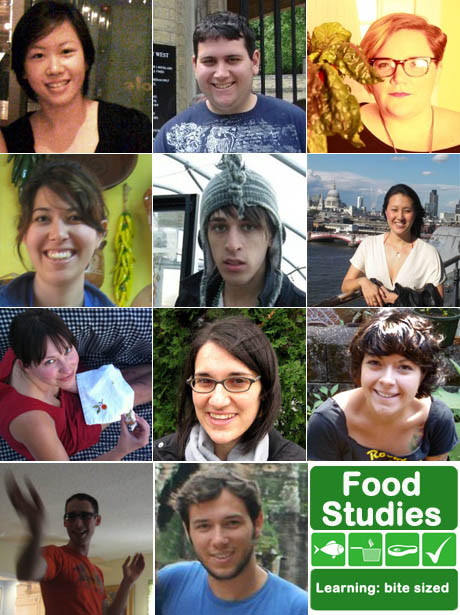 My team of eleven brave Food Studies bloggers.
I'm extremely pleased to announce that I'm editing a new series called Food Studies for the online environmental magazine Grist. Thanks to the superhuman efforts of Grist's new food editor, Twilight Greenaway, we launched today, and you can start following the series online here.
Those of you who keep up with Edible Geography will know that it is my firm belief that there is almost no limit to the subject matter that can be re-examined — and, most likely, made more interesting — through the lens of food. For Food Studies, I've asked eleven students from colleges and universities around the world, each of whom is thinking about food and agriculture from a very different perspective, to share their mental diet this autumn.
Cumulatively, I hope, their dispatches will make tangible the ways in which food is inherently multidisciplinary, with the capacity to shed new light on historic preservation, fiction, economics, urban design, public health, synthetic biology, geopolitics, and infinitely more besides. You can read more about my expectations for the series in my launch post over at Grist, as well as check out the roster of students for this semester.
Stay tuned to learn about the sensory dimensions of artisan cheese, the design of edible schoolyards, the history of canning, the future of hybrid wheat, and the economic importance of gastrodiplomacy alongside them over the coming months!
UPDATE: Following a successful launch, Food Studies is now firmly established and transferred to the capable editorial hands of Twilight Greenaway, the incoming Food editor at Grist. You can find and follow the series here; recent posts cover topics as diverse as zombie worms, post-Communist pork, and Catherine of Siena.