As New York City cleans up post-Sandy (and a huge thanks goes out to those who are out doing the cleaning!), the storm has revealed the city's topography and infrastructure, its former marshes, power networks, and rat population, in ways that are easy to overlook when things are running smoothly.
IMAGE: The queue to get into Trader Joe's in Chelsea on Sunday. PHOTO CREDIT: DNAinfo/Serena Solomon.
Of particular interest to edible geographers were the insights the storm offered into the city's food supply chain. As New Yorkers prepared for the storm, they all went grocery shopping at once, emptying the shelves of bread in Park Slope, of peanut butter at Trader Joe's, and of kale at the Fairway in Red Hook. Milk and bottled water were also popular, but not nearly as in demand as alcohol, with beer "doing surprisingly well," according to the owner of Concord Market in downtown Brooklyn.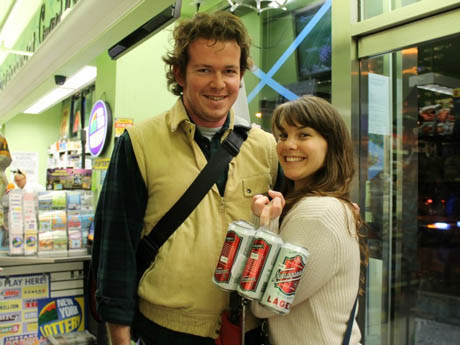 IMAGE: Stocking up on the essentials, pre-Sandy. PHOTO CREDIT: DNAinfo/Jill Colvin.
As they sat at home and waited for the storm to hit on Monday, many New Yorkers dealt with their cabin fever by ordering takeaway and watching films: The New York Times reported that "Netflix said it saw about 20 percent more traffic than last week on its streaming movie service, with many of the customers on the East Coast," while, "Seamless, an online food delivery service, reported more orders and higher checks than usual."
The immediate post-storm foodscape has varied widely based on neighbourhood impact. For restaurants, warehouses, supermarkets, and factories that were flooded, the clean up will be lengthy and expensive. For food service and storage facilities that lost power, thousands of dollars-worth of food will have to be thrown away. However, restaurants and bars that were undamaged and able to open on Tuesday, the day after the storm, did a roaring trade — Smith & Wollensky steakhouse reportedly sold every single piece of meat in their inventory before closing.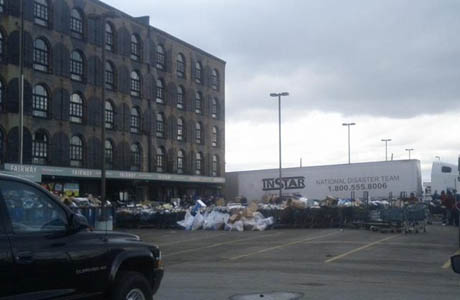 IMAGE: Shopping carts filled with perishable food in front of the Red Hook Fairway. Photo by @wookietv, via Gothamist.
Perhaps the most interesting reports came from the field of food distribution. In Lower Manhattan, food trucks demonstrated the responsive advantage of mobile urban infrastructure as they made their way through the congested, debris-strewn streets to sell gourmet grilled cheese, waffles, and coffee to residents of the black-out zone.*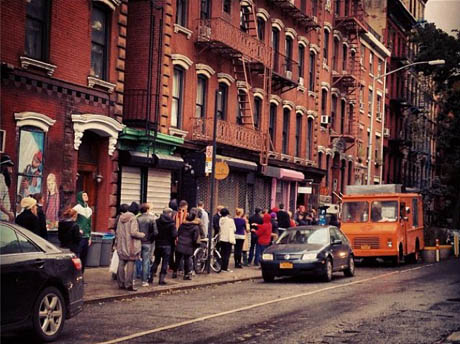 IMAGE: Queuing for coffee from the Mudtruck on Tuesday. Photo by @sarahbellummmm, via Gothamist.
Meanwhile, as supermarkets in areas that weren't hit by floods or electricity cuts re-opened yesterday, most still had noticeable gaps on their shelves (eggs and salad greens were in short supply in my neighbourhood), prompting the question of how quickly delivery trucks would be able to start making the rounds again.
Despite today's "just-in-time" supply chain, which leaves the city with no more than "two to three days of food on hand at normal consumption levels," The New York Post reported that widespread food shortages were unlikely. Instead, John Catsimatidis, owner of the local Gristedes supermarket chain, told the Post that "We are doing it hour by hour, trying to get trucks from our warehouses," but that "customers might notice a few things missing. […] Bread and milk. We might be running a day behind."
IMAGE: Empty bread shelves. PHOTO CREDIT: DNAinfo/Alan Neuhauser.
Both warehouse power outages and large-scale road closures have caused disruption to the entire region's food distribution networks. Earlier today, Ed Chouinard, President of Perishable Distribution Solutions, a refrigerated fleet based in Chicago, told The Huffington Post:
I've got thousands of trucks that are sitting on the East Coast. For our clients, it's almost entirely a question of whether or not they have power, and right now we're calling around everywhere [in New York and New Jersey] and no one's open.
For foodservice giants Sysco, The Huffington Post reported that "dangerous road conditions, not power outages, were the biggest hindrance to deliveries in the tri-state area on Tuesday." Western Growers, whose members supply half the nation's fresh fruit and vegetables, reported that they were anticipating a seven-to-ten-day "ripple effect" of "closed roads, delays at receivers due to power outages, slowdown in loading capacity and higher rates due to limited available capacity."
Reassuringly, food supply is treated with the same level of concern as the city's electricity, transportation, and communications systems. The New York Post reported that "representatives from major food suppliers have a seat in the command centers of the city's and state's Office of Emergency Management," and that "food trucks can convoy with police escorts along roads and bridges closed to the public" in order to restock the city's shelves, though that hasn't been necessary yet.
It seems that for a storm of such catastrophic proportions, the city's food supply system has proven, for the most part, to be sufficiently resilient to keep its citizens fed. The interesting question, if, as it seems, these kinds of natural disasters are to become more common, is how it, and we, will adjust to meet the challenge.
*UPDATE: As many have noted, the storm has also revealed existing inequality in a particularly stark light. For residents of the black-out zone who rely on food stamp EBT cards, grocery shopping has become even more difficult as even those stores that are open are without electricity and can only accept cash. For the elderly, sick, or otherwise immobile, the storm has stretched existing care even thinner, as the family members, case workers, and meals-on-wheels volunteers they would normally rely on for food are themselves stuck without access to public transit, petrol, bridges, tunnels, clear streets, or even, in some cases, their washed-away car.
Impressively, it seems as though a self-organising network of government agencies, citizens, restaurants, food trucks, and non-profits has emerged to set up distribution hubs and serve meals in stricken areas, with volunteers even climbing the darkened stairwells of high-rises to deliver food parcels and bottled water to people who cannot leave their homes.