IMAGE: Misfortune cookies by Miss Insomnia Tulip.
Miss Cakehead, a publicist specialising in edible stunts (why didn't that job exist when I was in school?) has organised a network of pop-up Depressed Cake Shops, which will take over bakeries around England in August with an array of all-grey cakes.
IMAGE: Black Dog macarons by Miss Insomnia Tulip.
IMAGE: Psycho Swiss roll by Miss Insomnia Tulip.
Volunteer bakers will be donating misfortune cookies, black dog macarons, monochrome gradient cakes, and a psycho Swiss roll, among other depressive delights, and each shop will donate the entirety of their proceeds to a mental health charity of their choice. However, the project's real goal, according to Miss Cakehead, is to raise awareness of mental illness, and the fact that one in four people worldwide will suffer from some form of it at some point in their lives.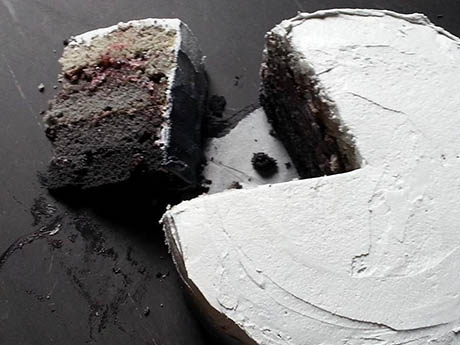 IMAGE: Grey gradient cake by Suzzle.
Depressed cakes draw on a distinguished history of using cake as a platform to introduce unpleasant topics. Last year, Miss Cakehead brought the world STD and anal wart cupcakes, sold by lucky dip, and pastry chef Victoria Yee-Howe made a series of bruise cakes in 2011, to draw attention to domestic violence.
IMAGE: One in four cream slices is grey, at least when Miss Cakehead is baking.
IMAGE: One in four teacakes is grey through and through, according to All Mine Patisserie.
Ultimately, Miss Cakehead hopes that these pop-up Depressed Cake Shops will also help her raise sponsorship to launch a series of baking therapy workshops around the UK. As Huma Qureshi notes in The Guardian, there is certainly plenty of anecdotal evidence of baking's mood-mending powers—for example, novelist Marion Keyes, who writes in her book, Saved by Cake:
Baking hasn't cured me. But it gets me through… To be perfectly blunt, my choice sometimes is: I can kill myself or I can make a dozen cupcakes. Right, so I'll do the cupcakes and I can kill myself tomorrow.
There's still time to join in: anyone can set up a Depressed Cake Shop this month, as long as all the cakes are grey and the money goes to a mental health charity. Meanwhile, you can find a list of Depressed Cake Shops in which to buy yourself a sad-looking, but delicious, treat, here.