Photo by Jonathan Brown. Brown reviewed the launch on his blog, Around Britain with a Paunch, writing that he and his friends "mingled in the mist, like shadows on the set of Hamlet".
A former boutique storefront in London has become the temporary home for a pop-up bar with a twist: 2 Ganton Street is currently the U.K.'s "first walk in cocktail." Created by Bompas & Parr (known for their earlier experiments with glow-in-the-dark jelly and scratch & sniff cinema), the "Alcoholic Architecture" bar features giant limes, over-sized straws, and most importantly, a gin-and-tonic mist.
Lucky ticket-holders (the event has now sold out) are equipped with plastic jumpsuits and encouraged to "breathe responsibly" before stepping into an alcoholic fog for up to 40 minutes – long enough to inhale "a fairly strong drink," according to Wired UK.
The Guardian noted that "as far as taste goes, this is the real deal," with some mouthfuls of air "sweeter with tonic and others nicely gin-heavy." Sam Bompas explained to Wired that they chose to vaporise gin and tonic (rather than, say, an appletini) because of its "nice smell, botanical flavours and freshness." St. John Ambulance volunteers are on hand, though the only reported casualties so far seem to have been hairstyles – victims of "gin-frizz". The Guardian concluded that, "With no sentient ice cubes able to confirm it, one can only assume that this is what the inside of a G and T feels like."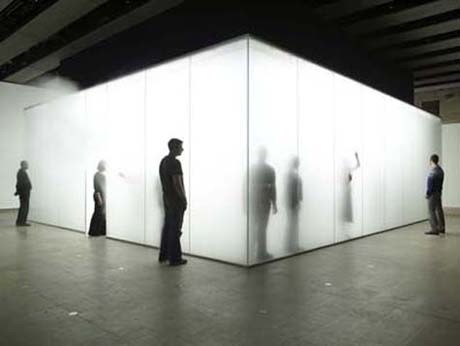 Antony Gormley's Blind Light, 2007, courtesy of the artist and Jay Jopling/White Cube, London, © Stephen White.
The project was inspired by Antony Gormley's Blind Light, a fog box installed at the Hayward Gallery in 2007. Bompas & Parr, who describe their world as operating in "the space between food and architecture," worked with the same company, JS Humidifiers, to adapt and install the ultrasonic humidifiers that create the thick, gin-based fog.
Though even typing "thick, gin-based fog" makes me feel a bit queasy, the experiment does seem to provide a perfect instantiation of London's social history, the city's prevailing damp, and its dense population. If the project is recreated elsewhere, perhaps local conditions will shape the installation: a freezing hail of neat vodka will form a layer of crystals on fur hoods and boots at a cavernous underground bar in Moscow; or a refreshing rum-and-coke mist will cool sunburned spring-breakers in the overcrowded hotel rooms of Daytona Beach.
Images courtesy JS Humidifiers
Of course, the architectural manipulation of humidity is not limited to alcohol. As JS's website boasts: "For precise control of humidity and temperature, extreme outputs, specialist construction for controlled environments or unusual control, whatever the requirement JS will design and manufacture a solution." Existing clients for these bespoke humidification systems apparently include medical device manufacturing, offshore oil exploration, firearms production, specialist printing, pharmaceutical production and automotive manufacturing. It seems clear that custom atmosphere solutions are a product with endless applications: migrating from industry to art to retail, with the next step being high-end custom interior design for the very rich.
It can only be a matter of time before wealthy individuals are able to wake up to vaporized coffee, maintaining their multi-tasking edge by inhaling caffeine for that last half-hour of sleep, while the riders of Hollywood stars will routinely specify custom dressing rooms bathed in a fine mist of light-diffusing, age-defying elixirs.
[Previously published as a guest post on BLDGBLOG.]