Tim Hayward, Guardian food writer and editor of the year-old food quarterly, Fire and Knives, has made a lovely video featuring taxi driver Anthony Street. Together, they trundle round London, starting with a full English in a neon-lit Portakabin caff behind King's Cross and ending with the perfect bacon roll.
IMAGE: Still from Tim Hayward's video, showing Anthony Street (L) and Hayward himself (R) enjoying a fry-up.
The concept is brilliant: a cabbie's guide to London food. The cheerful Anthony Street reveals that he favours Nando's for a main meal, that gossip about bacon quality spreads round London cab drivers like wildfire, and that the reason you can't find a taxi in the rain for love nor money is because they're all parked in a long line next to the cab shelter drinking 40p cups of tea.
IMAGE: Green cab shelter, still from Hayward's video.
Hayward even manages to get inside one of these green shelters, which are otherwise strictly off-limits to civilians. Only thirteen remain of an original network of sixty, set up in 1875 by a group of Temperance-minded philanthropists that included child-labour activist 7th Earl of Shaftesbury. Previously, a cabbie looking for a drink or something to eat would probably go to the pub, with the result that, according to Andrew Duncan's Secret London, "Victorian cabmen were notorious for their drunkenness."
The shelters' distinctive architectural form — from the exterior, they resemble a particularly handsome garden shed — is apparently the result of a Metropolitan Police ruling that, as they were "situated on the public highway, they could be no larger than a horse and cart."
IMAGE: Anthony Street and Tim Hayward having a natter over a cup of tea outside the cab shelter, still from Hayward's video.
The edible geography of London, from the perspective of a taxi-driver, is not limited to personal sustenance. Tourists frequently look to their cabbie for restaurant recommendations, and Street shares his top tips for both traditional fish and chips and a Sunday roast. I would have loved to have heard his views on the type of clientele you pick up at different London eateries, as well as his tolerance for in-cab snacking.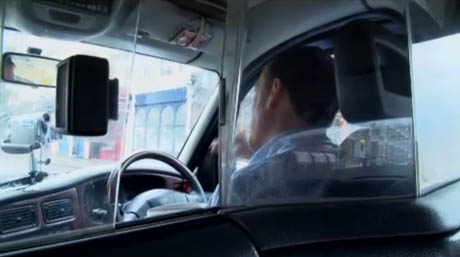 IMAGE: Anthony Street at the wheel of his cab, still from Hayward's video.
The idea of viewing a city's foodscape through the filter of its taxi-drivers reminded me of Eva Weber's beautiful short film, The Solitary Life Of Cranes. London's crane operators have, as BLDGBLOG puts it, "a view of the metropolis that architects and planners have little or no access to, an optical insight into city life that often gives their job an almost mystic feel."
IMAGE: From The Solitary Life of Cranes by Eva Weber, via BLDGBLOG.
So, too, do its cab drivers: Hayward's short video opens a door onto their subculture of communal tea breaks and distributed dining options, as well as their role as both adviser and voyeur in the dining habits of Londoners and tourists alike.
IMAGE: Inside one of the cab shelters, still from Hayward's video.
How might our understanding of how the city feeds itself change, if we collected the stories cab drivers can tell?
[NOTE: I highly recommend seeking out Weber's film (the trailer is on YouTube), as well as reading BLDGBLOG's post on the subject.]